November 25, 2009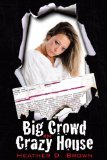 One year after I graduated from Indiana State University in Terre Haute, Indiana, where I received my B.S. in Printing Management, I found myself being led into the psychiatric ward clapping my hands and shouting, "Show me the Money!!!" I spent the longest night of my life in the padded room and was later diagnosed with bipolar disorder (manic depression).
That night, August 16, 1997, would mark the beginning of my lifelong battle with extreme mood swings that ranged from psychotic manic episodes to soul-wrenching depression. I have been hospitalized almost a dozen times in the following 11 years because of severe manic episodes. In 2001 I survived two suicide attempts, the second of which put me on a respirator for 2 days.
Coincidentally, I regained consciousness on September 11, 2001. As you can imagine, I was so thankful to be alive after 9/11, that I felt it was my duty to share my story by writing a book; Big Crowd at the Crazy House, (you will find out the secret behind that catchy title in that first paragraph) about what I went through in hopes of possibly helping prevent some of the millions of people who battle this illness from making the same almost fatal mistake that I nearly did. Approximately 32.000 people a year commit suicide, and if through my book I can convince just a few to stay on their medication and keep fighting, then the book will be a success.
People with manic-depression are some of the world's most creative and gifted people. Many are writers, painters, or musicians with Unlimited Potential… I hope to offer them encouragement to never again think of giving up, and instead they should try to find a lucrative opportunity for their creativity and to fight back when this illness tries to break you down.
If you, or someone you love, or a friend or co-worker is suffering from bipolar disorder, this book offers you a backstage pass inside the mind of a manic-depressive. The reader should be prepared to laugh out loud one moment at the manic adventures that I have been on, and possibly shed a tear or two in the next, as I offer you a glimpse into the brutally honest and often dark and lonely world of depression which I express through a selection of my poetic works. At the end of the book there are quotes on Insanity, Inspiration and Imagination – these three things quite often go hand-in-hand in the daily life of a modern day manic depressive striving to be a best-selling author.
You will laugh out loud, cry, and be glad it didn't happen to you!
In the end, if you are not overcome with emotion in the unbelievable power of the Human Spirit to pick itself up, dust itself off, clap its hands, and find its way back from nowhere, and realize it has the potential to live out its Destiny and live the life it has always imagined… then you need to check your pulse or re-read this book!
I currently live in Terre Haute, Indiana with my amazing dog; Ruby.
She is already working on her second book.
You can order my book online at
www.BigCrowdAtTheCrazyHouse.com
Or by mail by sending $15.95 + $2.50 shipping and handling to:
Heather D. Brown
P.O. Box 11327
Terre Haute, IN 47801